Mankan Part 22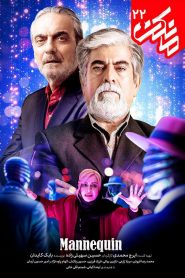 MankanMannequin Episode 22
تاریخ انتشار / Release Date:
Jan. 20, 2020
منتشر شد

Download The Twenty-Second Mankan Episode (Mankan Part 22)

Director: Hossein Soheilizadeh

  /

Genre: Social, Drama

/

Release Date: 2019-2020



Broadcast from home screen

  /

Episode Number: 27 Episodes  / 

Video quality: WEB-DL



Format: MP4  /

Size: Different by any quality

  /

Producer: Iraj Mohammadi
Serial Mankan part 22
Mankan is a social melodrama that sums up the story of always having great and beautiful love, great and dreadful enemies. The Mankan series deals with the economic inequality of different classes of society and the comparison of the able-bodied to the low-income. Kaveh and his peers have started a romantic relationship, but social and economic problems are causing challenges along the way, and…
Review of Mankan Part 22

The Mankan series is one of the few in the series to talk about recovery and Raghs Rooye Shishe, and has beautifully depicted its story. The strengths of this series are its many famous actors who have made their series a great high quality with their good game.
Synopsis



They have always had great and beautiful love, great and dreadful enemies, the lover and the beloved have to face many sufferings for the sake of their poetic love…
Actors
1 - 1

1 - 2

1 - 3

1 - 4

1 - 5

1 - 6

1 - 7

1 - 8

1 - 9

1 - 10

1 - 11

1 - 12

1 - 13

1 - 14

1 - 15

1 - 16

1 - 17

1 - 18

1 - 19

1 - 20

1 - 21

1 - 22

1 - 23

1 - 24

1 - 25

1 - 26

1 - 27