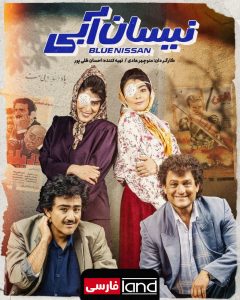 Neysane Abi
Blue Nissan / نیسان آبی
Synopsis
Neysane Abi is directed by Manouchehr Hadi was made in 1400. This series is a product of Iran and is in the family and comedy genres. In this series, Hossein Yari, Mehran Ghafourian, Yekta Nasser, Behnaz Jafari, Jamshid Hashempour, Alireza Khamseh, Sahar Qureshi, Giti Ghasemi have worked as artists. The screenplay of Neysan Abi was written by Saeed Dolatkhani and Saeed Hoshyar based on the screenplay of Neysane Abi written by Kamil Rouhani. The whole story started on a spring morning in Shokarabad, where Jamshid Ghasempour was released from prison and Reza Khorsand finally got a job. But something happened that ruined everything.
---
سریال نیسان آبی به کارگردانی منوچهر هادی در سال 1400 ساخته شده است. این سریال محصول کشور ایران و در ژانر خانوادگی و کمدی می‌باشد. در این سریال حسین یاری، مهران غفوریان، یکتا ناصر، بهناز جعفری، جمشید هاشم پور، علیرضا خمسه، سحر قریشی، گیتی قاسمی، ایمان صفا، بهشاد شریفیان، سیروس همتی، غلامرضا نیکخواه، حسام نواب صفوی، کریم قربانی، یوسف صیادی، آرش ظلی پور، صفر کشکولی، علی مهربان، نیکی میربها، سانای امیرآبادی، آرین محمودی، سبحان هادی، طاها عبداللهی، رزا بیات، بهزاد رحیم خانی , رضا بنفشه خواه به هنرمندی پرداخته‌اند.
همه ماجرا از صبح یک روز بهاری در شکرآباد شروع شد، جایی که جمشید قاسم پور از زندان آزاد شد و رضا خرسند هم بالاخره کار پیدا کرد. ولی یک اتفاق همه چیز را بهم ریخت.
First air date
Oct. 20, 2021