Pesarkoshi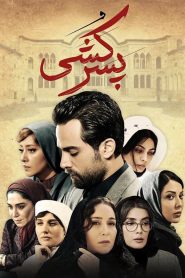 Pesarkoshi
Filicide / پسر کشی
Synopsis
The story of the Pesarkoshi
"Pesarkoshi" tells the story of a social and enigmatic story directed by Mohammad Hadi Karimi. It chronicles the hardships of the 1340s and 1370s and points to a misconception that has overshadowed family life for decades.
About the movie Pesar Koshi
The film "Pesar Koshi" directed by Mohammad Hadi Karimi was made in 2019. This film is a product of Iran in the Drama genre. In this film, Jaleh Sameti, Arman Darvish, Bahareh Kian Afshar, Nasim Adabi, Farrokh Nemati, Gloria Hardy, Sahra Asadollahi, Zeinab Ghaderi, Leila Otadi, Leila Zare, Shahnaz Nosrati, Soheil Ghasedi have performed as artists.