Jayi Baraye Fereshteha Nist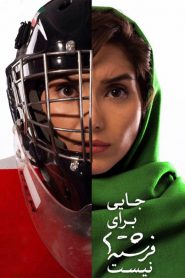 Jayi Baraye Fereshteha Nist
No Place For Angels / جایی برای فرشته ها نیست
Synopsis
Jayi Baraye Fereshteha Nist (جایی برای فرشته ها نیست) is a documentary about Iran's National Skating Girls Hockey Team and their difficulties in going to the Asian Games in South Korea.
This movie, directed by Sam Kalantari, was made in 1398. This film is a product of Iran and is in the documentary and sports genres.
---
این فیلم درباره دختران تیم ملی اسکیت هاکی ایران و مشکلات پیچیده آنها در راه مسابقات آسیایی کره است. فدراسیون توانایی تامین هزینه دختران را ندارد و این اتفاق باعث شده است تا تیم در شرایط روحی بحرانی قرار بگیرد. با اضافه شدن دکتري روانکاو که باور به متدي جدید در کار با دختران دارد تعدادي از آنها کمپینی جهت جمع آوري پول را راه اندازي می کنند.کمپین در نهایت با حمایت مردم موفق شده و دختران با این کمک ها عازم مسابقات کره می شوند. مسابقاتی تازه آنها باید با غول هاي قدرتمند آسیا مبارزه کنند.
Original title
جایی برای فرشته ها نیست
Similar titles