Ham Gonah Part 24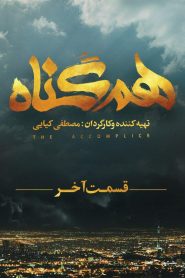 Ham GonahHam Gonah Episode 24
تاریخ انتشار / Release Date:
Aug. 17, 2020
Hamgonah Episode 24
Series Name: Hamgonah (The Accomplice)
Director: Mostafa Kiai
Genre: Social
Release date: 17th August
Episodes: 24 episodes
Current Episode: Ham Gonah Part 24
Author: Mohsen Kiai, Ali Kouchaki
Producer: Mostafa Kiai
Previous Episode: Ham Gonah Part 23
The "The Accomplice (Hamgonah)" directed and produced by Mostafa Kiai
This series is in the social genre and is written by Mohsen Kiai and Ali Kouchaki
It will be published on the home theater network from Monday, March 26th.
This series is the newest series of the home show network, which has won the title of the most popular home show series.
Synopsis :
The story is about a family called Saburi in Tehran who have been growing decorative flowers for many years.
Their family has three brothers and a sister. The whole family works for the company and pursues their inherited job.
Except for the second son, Fariborz (Parviz Parastovi), who is now 58 years old and an intelligence officer.
At a young age, Fariborz decided to become a police officer and went to a city to take a training course.
1 - 1

1 - 2

1 - 3

1 - 4

1 - 5

1 - 6

1 - 7

1 - 8

1 - 9

1 - 10

1 - 11

1 - 12

1 - 12.5

1 - 13

1 - 14

1 - 15

1 - 16

1 - 17

1 - 18

1 - 19

1 - 20

1 - 21

1 - 22

1 - 23

1 - 24

1 - 25