Ham Gonah Part 21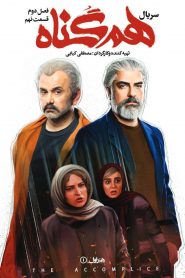 Ham GonahHam Gonah Episode 21
تاریخ انتشار / Release Date:
Jul. 27, 2020
Hamgonah Episode 21
Series Name: Hamgonah (The Accomplice)
Director: Mostafa Kiai
Genre: Social
Release date: 27th July
Episodes: 24 episodes
Current Episode: Ham Gonah Part 21
Author: Mohsen Kiai, Ali Kouchaki
Producer: Mostafa Kiai
Next Episode: Ham Gonah Part 22
The "The Accomplice (Hamgonah)" directed and produced by Mostafa Kiai
This series is in the social genre and is written by Mohsen Kiai and Ali Kouchaki
It will be published on the home theater network from Monday, March 26th.
This series is the newest series of the home show network, which has won the title of the most popular home show series.
1 - 1

1 - 2

1 - 3

1 - 4

1 - 5

1 - 6

1 - 7

1 - 8

1 - 9

1 - 10

1 - 11

1 - 12

1 - 12.5

1 - 13

1 - 14

1 - 15

1 - 16

1 - 17

1 - 18

1 - 19

1 - 20

1 - 21

1 - 22

1 - 23

1 - 24

1 - 25