Ham Gonah Part 16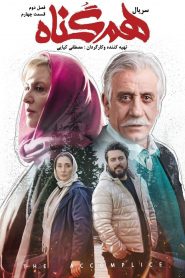 Ham GonahHam Gonah Episode 16
Hamgonah Episode 16
Series Name: Hamgonah (The Accomplice)
Director: Mostafa Kiai
Genre: Social
Release date: 22th June
Episodes: 24 episodes
Current Episode: Ham Gonah Part 16
Author: Mohsen Kiai, Ali Kouchaki
Producer: Mostafa Kiai
Next Episode: Ham Gonah Part 17
The "The Accomplice (Hamgonah)" directed and produced by Mostafa Kiai
This series is in the social genre and is written by Mohsen Kiai and Ali Kouchaki
It will be published on the home theater network from Monday, March 26th.
This series is the newest series of the home show network, which has won the title of the most popular home show series.
Synopsis :
The story is about a family called Saburi in Tehran who have been growing decorative flowers for many years.
Their family has three brothers and a sister. The whole family works for the company and pursues their inherited job.
Except for the second son, Fariborz (Parviz Parastovi), who is now 58 years old and an intelligence officer.
At a young age, Fariborz decided to become a police officer and went to a city to take a training course.
The actors:
Parviz Parastui in ​​the role of Fariborz sabouri , Mahtab Keramati, Hedyeh Tehrani, Mohsen Kiai (Arman), Hengameh Ghaziani,
Habib Rezaei, Massoud Raegan, Roya Teymourian, Mehdi Pakdel, Shahrokh Froutnian,
Afsaneh Chehre Azad, Pedram Sharifi, Roshanak Gerami (Nikki), Ehsan Karami (Amin), Sougal Khaliq,
Hossein Omidi, Maral Bani Adam, Ali Bagheri, Forough Ghajabgloo, Shirin Ismaili, Saqi Hajipour,
Frank Kalantar, Mohammad Alaei, Mohammad Rasoul Safari, Derna Madani, Mohammad Movahednia and Ayatollah Javidnejad